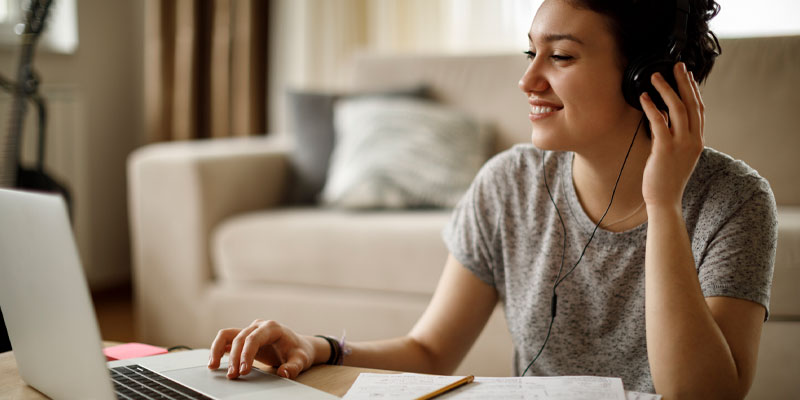 By Hunter Thomas and the Online College Staff
There are a multitude of options for students seeking an affordable, quality online education, but how do you know what is best when it comes to making the right choice for your future?  It's no secret that all online courses offer flexibility when it comes to your busy work and personal schedules, and Florence-Darlington Technical College's (FDTC's) Online College is no exception. In fact, FDTC Online College was the first in the state and has many years of experience in offering online education. Unlike many of the other institutions being forced into the online business because of COVID-19, FDTC has been doing online education for more than a decade.
It does not matter what time of day or night it is, the Online College at FDTC offers 24/7 access to content. However, despite the 24/7 access, online courses are not self-paced courses. There are still deadlines and work that must be completed by a specific time and date.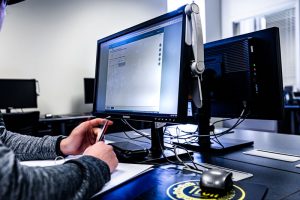 "You can login to your class, and our system supports Apple, Windows, and just about any smart device," said Lamar Younginer, Director of the FDTC Online College. "Whether you are in your car waiting in the line to pick up your child from school or taking a break at lunch, your course is just a few clicks away. Your daily activities won't be hindered by classwork, and you can work on your assignments around the demands of your work and personal life."
Callie Morris, a former FDTC Online College student, said, "I chose Florence-Darlington Tech, mostly because of the convenience of the online classes. The affordability was a big factor. The staff and faculty are amazing. They have been amazing from the first day that I walked in to get registered for my first class. I love the convenience of being able to do all of my class work and homework at home, even with my five-year old running around the house. It has been a really positive experience, not just for me, but for my whole family."
There is, however, more to an online education than just convenience.  At FDTC, the same standards apply to an online course as for the traditional face-to-face courses.  The instructors care about you as a student and spend a great deal of time engaging their students.
Ivy Ingram, Instructional Support Coordinator for the FDTC Online College, has noticed the engagement efforts of the online instructors. After reviewing hundreds of FDTC's online offerings, Ingram said, "I have seen direct evidence throughout a wide cross-section of our courses that our instructors want our students to succeed, be engaged, and be challenged. We have set a standard at FDTC with proven course quality and instructor excellence."
For high school students ensrolled in the Dual Enrollment Program, online courses are a great option when schedules are packed with work, athletic practices, and everything else that goes on in a high school teenager's life. Plus, it is a much easier way to get ahead while still in high school. Parents love the fact that they can save hundreds, if not thousands of tuition dollars, by encouraging their student to take dual credit courses.
With an online course, content is more up-to-date when compared to what is in some textbooks. For example, an instructor may base an assignment on a recent video uploaded to YouTube or Ted Talks. The instructor can also inject a current event topic into a discussion board assignment in order to promote engagement and student feedback. Another great aspect of taking online courses is that you will have more time to email and chat with the instructors instead of trying to take in all of the information during a normal class period.
Online courses cost the same as the traditional, on-site courses at FDTC. The courses also transfer to nearly any four-year institution. FDTC's Online College offers more than 100 courses, and if a student is earning an Associate in Arts Degree, a Criminal Justice Degree, a Management or Marketing Degree, they can complete all of their degree requirements online.
When students log in to the Online College, they will notice that the layout is the same for every class. No matter if the student is taking a Marketing course or a Criminal Justice course, the content is arranged in the same way. That makes taking multiple classes much easier because the student is not constantly getting frustrated as they search for content.
"All of the classes will be the same, so if you're taking English 101 during the first eight weeks and then you take a History 101 during the second eight weeks, the layout of the class is going to be the same," Younginer said. "We learned early on that when we set them all up the same way, students know where the syllabus is, and they know where their quizzes and assignments are."
If you are still hesitant about joining the Online College at FDTC and earning your degree through online courses, here is one more suggestion for you. FDTC's Online College has a course that is accessible to the public. When you log on to www.fdtc.edu, search D2L. Click the first link on the login page. The USERNAME is guest2016, and the PASSWORD is fdtc1234. Once you have successfully logged in, feel free to explore and interact within the account anonymously. You can take quizzes, interact with the content, and get comfortable with the layout. Afterwards, give the college a call at 843-661-8324, and we will get you setup for your online courses.
"What we've done is taken a real online course and made the username and password public, so that anyone can access it," Younginer said. "We've put it on our website. A student can login with that information and look at it. We've got about three or four weeks' worth of content. We've got quizzes students can take, and nobody is going to know who they are. They can take a quiz, pass it, fail it, it doesn't matter. They can post in a discussion board and ask questions, and we'll interact with those students. We'll give them an idea for what it feels like to be enrolled in an online course."
For more information on Florence-Darlington Technical College's Online College, visit www.fdtc.edu. You can also keep up with the Online College by liking our Facebook page and following @FDTCOnline on Twitter. You can also call Lamar Younginer, Director of the Online College, at 843-661-8061, Ivy Ingram at 843-661-8562 or Bob Garand at 843-661-8326.