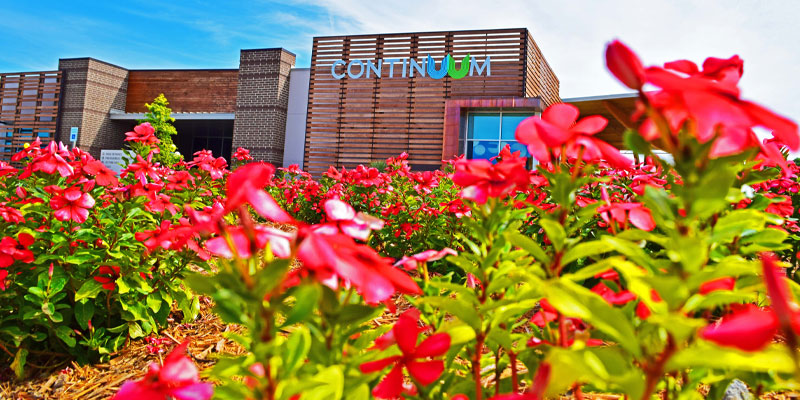 By Celeste Nunn
There's something different about Main Street in Lake City, South Carolina. In addition to the restaurants and storefronts typical to a bustling small town, Lake City's downtown now boasts the Continuum, a brand new state-of-the-art building like no other.
The Continuum that opened its doors in the fall of 2019 is a $25 million, 46,000-square-foot educational facility that is the result of a partnership between the Darla Moore Foundation, Florence-Darlington Technical College (FDTC), and Francis Marion University.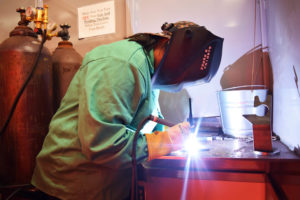 FDTC's mission at the Continuum is to provide opportunities for students through training and certifications in workforce development skills, courses that lead to two-year degrees, dual credit courses for high school students, and programs for K-12 students in science and innovation.
"Our goal is to meet the needs of both students and employers by creating a highly-skilled, well-educated workforce," said FDTC President Ed Bethea. "Our presence at the Continuum allows us to meet that goal like never before. The facility gives us the flexibility to offer a wide variety of programs and forge partnerships with local industry; it really is a win-win."
FDTC offers many of its traditional college courses at the Continuum just as it did at its previous site in Lake City, but now high school students have an opportunity to take hands-on, dual enrollment courses in Welding, Heating, Ventilation, and Air Conditioning (HVAC), and Industrial Maintenance Technology (IMT).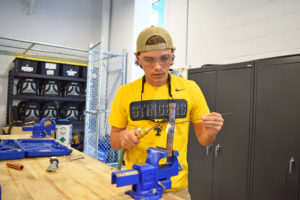 "FDTC has long held a presence in Lake City, but until now we have not been able to offer such a wide range of options to the students in this area," said Celeste Nunn, Director of FDTC's Lake City Campus at the Continuum. "The technology at the Continuum allows us to provide instruction to adults and high school students in the high-skills technical programs sought by top employers."
A step inside the Continuum reveals a space as beautiful as it is technologically advanced. Designed by McMillan Pazdan Smith Architecture and built by Thompson Turner Construction, the facility could easily be mistaken for an art gallery or exhibit space, with soaring ceilings and plenty of natural light. However, a closer look reveals the building's purpose as a highly advanced learning center. FDTC's space in the Continuum includes four workforce development labs, seven high-tech classrooms, three computer labs, three distance learning (online) classrooms, biology and chemistry labs with large prep rooms, and a health science classroom space. All classrooms are fully outfitted for students to gain cutting-edge learning experience.
For many of the high school students in lower Florence County, the opportunity to take classes with FDTC for college credit is a game-changer.
Sabrina Bonilla Perez is a Lake City High School student who enrolled in dual enrollment welding classes through FDTC at the Continuum. She was excited to take advantage of the no-cost programs available to public high school students.
"Taking college courses during high school, I think it's a good opportunity," Perez said. "You wouldn't have to pay for it as you would if you weren't in high school, and it'll boost up your GPA."
Jameson Alexander Glover is a senior at The Carolina Academy in Lake City, and he takes welding classes through FDTC at the Continuum. He enjoys the hands-on training that welding classes offer. Once Glover graduates from high school, he would like to finish his education at FDTC before transferring to a four-year institution to study Engineering.
"It gives you a huge, early step up ahead of the game towards people who are just starting out at a four-year school trying to take it or just starting at Tech," Glover said. "I can just go to Tech for a year and get my certification and go ahead and get that done, and then start on basic stuff that I would use at a four-year school. It's a huge jump in the game."
Other students view enrolling at FDTC at the Continuum as the first step towards a high paying career.
Hannah-Pamplico High School student Warner Hicks studies HVAC at the Continuum, and he chose to take courses due to the potential salary that can be earned following his two years of hands-on training.
"I chose to go into HVAC because there's a good amount of money in it, and I enjoy working outdoors," Hicks said. "Ever since I was a kid, my biggest dream was having a family as soon as possible and being able to [take HVAC courses] at an early stage…means a lot because I'm able to pursue that dream faster."
Caleb Matthews, a high school student taking IMT courses at the Continuum, also hopes to get a leg up on the job market.
"I chose to study IMT because you can find jobs right after high school, get ready for a career, and further yourself," Matthews said.
Matthews also said that the high-tech classroom experience makes him feel ready to work in a real industrial facility. "The tools and equipment we use are top-notch," he added.
FDTC currently hosts students from five different high schools at the Continuum, in addition to traditional adult college students from around the region. FDTC also provides open enrollment for professional certification courses at the new location, including Certified Nurse Assisting (CNA), Commercial Driver's License (CDL), Forklift Training, and Pre-Manufacturing courses.
For more information on FDTC's classes at the Continuum, email [email protected] or call 843-676-8591.