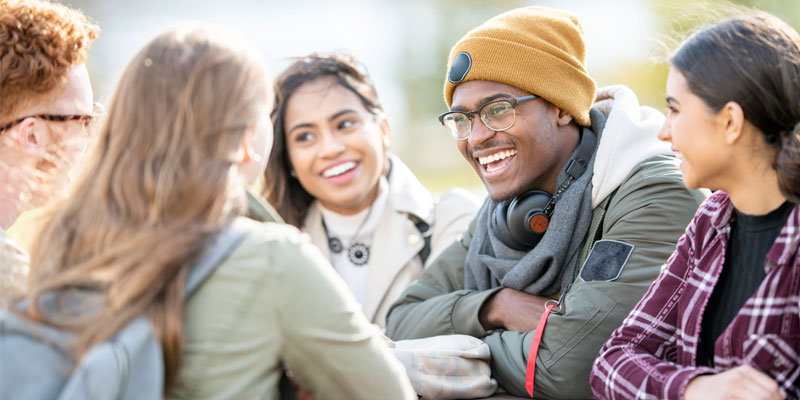 Through collaborations with neighboring four-year institutions, Coker University and Francis Marion University, students at Florence-Darlington Technical College can transition smoothly to a bachelor degree program thanks to two unique bridge programs.
Coker University
About the Coker University Bridge Program
FDTC associate degree graduates in management, marketing, criminal justice technology, or human services can earn their bachelor's degree from Coker University in just two years. FDTC associate degree graduates in other majors can transfer into the university's traditional, in-seat program.
FDTC associate degree holders starting at Coker University in summer 2020 or fall 2020 are encouraged to participate in Coker's Transfer Promise. As a transfer student with an associate degree, Coker is committed to a two-year path to graduation. If life gets in the way and you are unable to graduate in two years, the university will support you through scholarships covering up to two semesters of additional needed coursework to ensure you graduate with your bachelor's degree. More information, including eligibility and requirements, can be found at coker.edu/transfer-promise.
FDTC Bridge Program to Coker University
A.A.S., Criminal Justice to B.S. Criminology (Hybrid or 100% Online)

A.A.S., Human Services to B.S. Psychology (100% Online)

A.A.S., Management to B.S. Business Management (Hybrid or 100% Online)

A.A.S., Marketing to B.S. Business Management (Hybrid or 100% Online)
Participating FDTC students have a hybrid option (combining in-seat and online learning) or a 100% online option depending on the Coker University B.S. degree program that the student is working towards. Both options consist of six-credit hours, eight-week terms. Regardless of the chosen option, FDTC students will be part of a cohort, meaning they will be with the same group of students as they work together towards a bachelor's degree. FDTC students will have Coker University's supportive faculty, staff, and resources to help along the way, including a success coach for one-on-one assistance with registering for classes and transitioning to the university's program.
The hybrid option is for FDTC students enrolled in Management, Marketing, or Criminal Justice Technology bridge programs. Classes will be both online and in-seat at FDTC. Each term, students spend one night per week taking an in-person course with Coker University faculty in an FDTC classroom and a second class taught entirely online. Students will have the option of pursuing a bachelor's degree in Business Management and Criminology.
The 100% online option is also available for FDTC associate degree students in Management, Marketing or Criminal Justice Technology, and it's an option for students looking to obtain a bachelor's degree in Psychology from Coker University (besides attending in-seat classes on Coker's campus in Hartsville).
Benefits for Coker University Bridge Program Participants:
● Coker University awards its $2,000 Associate's Achievement Scholarship to all students who transfer to Coker with an associate degree.
● FDTC graduates will be given a graduation plan upon enrollment and will graduate in just two years. Per Coker's Transfer Promise, if a student needs additional semesters to graduate, Coker will award additional scholarships to cover the cost of tuition for up to two additional semesters.
● FDTC students may attend Coker University athletic and cultural events at no cost.
More information about Coker University can be found at coker.edu.
Francis Marion University
About the Francis Marion University Bridge Program
FDTC students participating in the bridge program with Francis Marion University will receive dual admission, advisement, and student development opportunities from both institutions. Coursework will begin in the fall semester. Participating FDTC students will need to earn a minimum of 22 transferable credit hours, maintain a 2.0 GPA, and meet bridge academic requirements in order to transfer to Francis Marion University and begin their sophomore year. If the students meets all criteria, they will not need to submit a Francis Marion University admissions application. 
Benefits for Francis Marion University Bridge Program Participants:
Access to FMU Rogers Library

Access to FMU athletic events

Access to FMU Smith University Center (bookstore, indoor pool, fitness room, and weight room)

Special FMU student discounts for events and performances held at the FMU Performing Arts Center

Dual academic advising by professionals at FDTC and FMU

Guaranteed transferability of courses taken at FDTC when bridge student adheres to a program pathway or FMU Transfer Guide

Courses selected through the program pathway will also coincide with required academic program requirements for that specific major at FMU

FMU representative will visit FDTC at least once a semester and will be available during that visit to meet with bridge students to answer any questions or concerns the student may have

Specific transfer orientation sessions are available for bridge students prior to enrolling at FMU
In Lake City, FDTC and FMU share space in the Continuum. A variety of FMU's dual credit classes will transfer to FDTC's Healthcare and Arts & Science Pathways, including BIO 103, ENG 101, HIST 103, MATH 134, POL 101 and PSY 206.
The FDTC Arts & Science Pathway allows FMU students to work towards an A.A. degree or an A.S. degree as well as an education in FDTC's Criminal Justice, Early Childhood Development, Human Services and Paralegal Studies programs.
The FDTC Healthcare Pathway allows FMU students to work towards an education in Dental, Nursing, Radiology, Respiratory, Surgical and Health Information and Medical Coding programs.
More information about Francis Marion University can be found at www.fmarion.edu.